Denne stillingen er besatt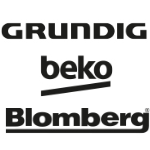 Nettside Grundig Nordic AS
Grundig Nordic is fast growing company in the Nordic market for home electronics and home appliances.
An exciting portfolio of brands like Grundig, Beko and Blomberg makes us increasingly attractive for consumers across the Nordic region.
Grundig Nordic is owned by Arcelik, a part of Koc Holding, which is one of the world's top 400 companies ranked by total revenues, with a total turnover of 30 bn USD within various industries, and a total of 90,000 employees.
Grundig Nordic is present in all Nordic countries and will be head quartered at Sköyen/Oslo, from February 2020.
In 2016 Grundig launched a unique collaboration with the Nordic Royal Yacht Clubs, and we are the proud title sponsor of the pan Nordic sailing cup; Grundig Sailing Cup. We are also the proud sponsor of the historic sailing venue Grundig Hankø Race Week.
Beko is the second largest brand in Europa for appliances, a position that is strengthened by our sponsorship with FC Barcelona.
To strengthen our position and meet future opportunities we are now searching an experienced and ambitious colleague:
NORDIC MARKETING MANAGER
At Grundig Nordic marketing is about understanding customers — and building awareness about how our products can satisfy their needs. We're looking for an experienced and versatile marketing manager who is hungry to do this and more. Our ideal candidate has experience developing and executing marketing & sales driven campaigns/plans while managing and inspiring a team. He/she will be comfortable with day-to-day marketing activities, as well as long-term strategy, thriving with tight deadlines and changing needs. If you are a people-person who loves the rewarding challenge of building brands, we want to hear from you.
Responsibilities:
Developing the marketing strategy for the brands in line with company objectives
Present ideas and final deliverables to internal and external teams, and communicate with senior leaders about marketing programs, strategies, and budgets
Lead a team of 4 dedicated colleagues in the Nordic marketing department
Developing budgets, including expenditures, return-on-investment and profit-loss projections
Identify effectiveness and impact of current marketing initiatives with tracking and analysis, and optimize accordingly
Overall responsibility for brand management and corporate Nordic identity
Supporting sales and lead generation efforts
Develop and utilize our sponsorship engagements (visibility/execution)
Trade Marketing (in-store visibility/fairs/trainings)
Skills and Qualifications
> 5 years of relevant marketing experience
Relevant bachelor and/or master's degrees
Proficiency with online marketing and social media strategies
Energetic, proactive and flexible with high work capacity
Commercial understanding and the ability to capitalize on storytelling and customer feedback
Creative and experienced at briefing in, and evaluating design executions
Analytical mindset and structured work habits
Cost efficiency and budget management to reach financial KPI´s
We can offer:
A free creative leadership role
Challenging tasks in the field of marketing in the electronics industry in the Nordic countries
An evolving position in a driving and ambitious environment
Competitive salary and pension conditions
Career in a major multinational company with leading brands
The position will be located at the Grundig Nordic head office at Skøyen Oslo and reports to the Nordic CEO and is a part of the Grundig Nordic management team. Some work-related travel can be expected. Applicants must be a native Norwegian, Swedish or Danish speaker, with excellent written skills and comprehensive English vocabulary knowledge.
For further information, please contact Mgm. Partner Lars Hagen at +47 90 999 000 at Nye Ansatte for a first confidential dialogue. Interviews will be conducted in English and Nordic languages.
All applications (in English) will be treated confidentially and in accordance with current rules and regulations.For more information, look us up at www.grundig.no